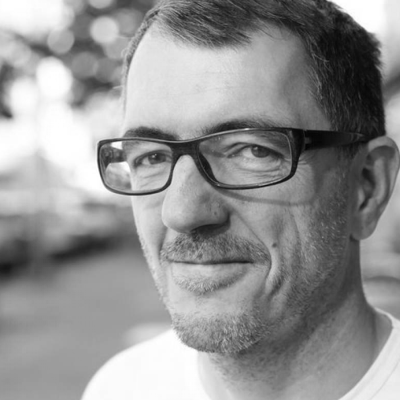 Dr. Motte
for always and ever: Loveparade | Berlin [DE]
"Anyone who understands music as a culture's social responsibility is and will always remain progressive."
Up until 1989 Matthias Roeingh a.k.a. Dr. Motte led a relatively low-key life. Born in Spandau in 1960 he tiptoed through the scene; from 1981 – 1984 with his band 'Toten Piloten' (dead pilots), a Berlin Funk band. And in 1985, even before techno music appeared, he had already replaced his drum set for turntables and a DJ mixer to expand the opportunities of his musical self-realization.
In his then club 'Turbine Rosenheim' he gained skills and developed his very own style of mixing for which he drew from his extensive repertoire of jazz, punk, funk, soul, disco, and EBM. Like no other he tied all these genres together by a common thread. And just in this club, only two years later, he organized the first acid house parties in Berlin. As co-founder of the cult label 'Space Teddy Recordings' he released his first electronic music album 'Chill Out Planet Earth' in 1992, under the pseudonym Dr. Mottes Euphorhythm. In the same year, he also came up with another record that became one of the most important German releases ever because it finally leveraged Berlin's electronic music to international success: 3Phase feat. Dr. Motte – 'Der Klang der Familie' (Tresor Records, Tresor 6).
This high-flying cooperation of Dr. Motte and co-producers has been followed by many more amazing artists such as Robert Babicz, Gabriel Le Mar, Tom Wax, Westbam, Namito, 3 Phase, Johnny Klimek, Paul Browse, Marc Van Linden, DJ Dag etc.
Back in time… 1989. Before Dr. Motte became successful with his music productions and remixes he had put an idea into action that would write a new chapter in the history of music: A demonstration to represent the contemporary culture of electronic dance music, called "Love Parade".
AWARDS:
2010 Help Music Award
2007 DJ Meeting LiveTime Award
2007 DJ Awards Lifetime Achievement Ibiza 2000 Musik
2007 Maschine Award (Tresor Award)
1999 Bambi
1997 VIVA Comet