Tresor Clubnacht : Stadt Nach Acht Closing Party
All participants of Stadt Nach Acht Conference and Frei(T)räume – Dance & Space of Urgency public day are invited to come to/ stay at Tresor for our common party!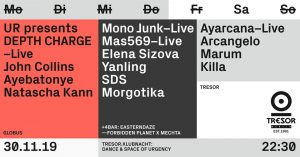 Lineup:
Opening Performance from 23:00 – 00:00 @ Globus by
Dance of Urgency: African/American Sonic Resistance – an UR special audio-visual project by Cornelius Harris and Mark Flash.
Globus:
Live: UNDERGROUND RESISTANCE presents DEPTH CHARGE (Mike Banks & Mark Flash/ Detroit)
John Collins (UR/ Detroit)
Ayebatonye (Irregular Fit/ Sydney)
Natascha Kann (://about blank/ Berlin)
Tresor:
Live: Ayarcana (S.L.A.M., Parachute Records/ Berlin)
Arcangelo (Saturnalia/ IT)
marum (Mina/ Lisbon)
KILLA (Lecken/ Berlin)
+4Bar: Easterndaze: Forbidden Planet x Mechta
Live: Mono Junk (Dum Records/ FI)
Live: Mas569 (Forbidden Planet)
Elena Sizova (Minsk)
Yanling (Forbidden Planet/ Berlin)
SDS (Warsaw)
Morgotika (Mechta/ Minsk)
Free access with your SN8 wristband/ Frei(T)räume stamp!