Experimental Performance Lecture Show and Party on the 1920s
Creation, Lust and Resistance in Berlin
Weimar and today's visions of a danceable life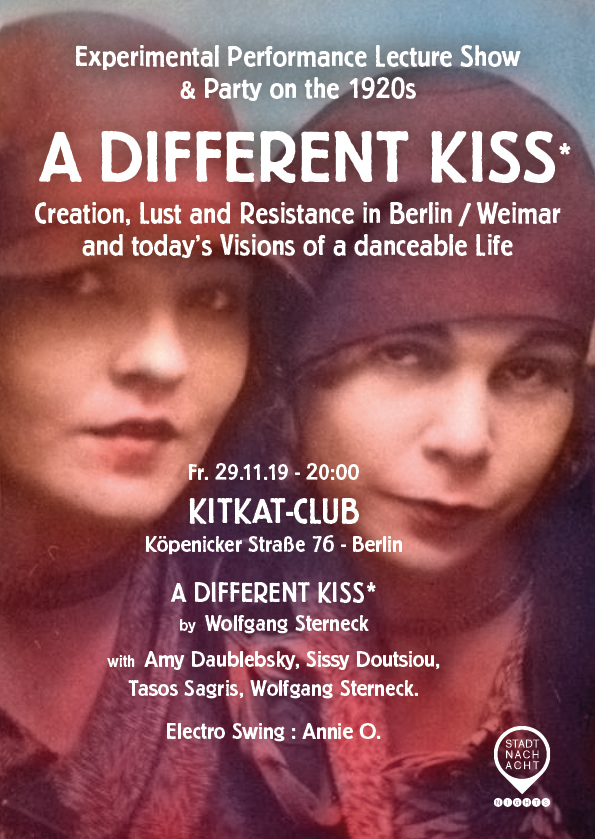 …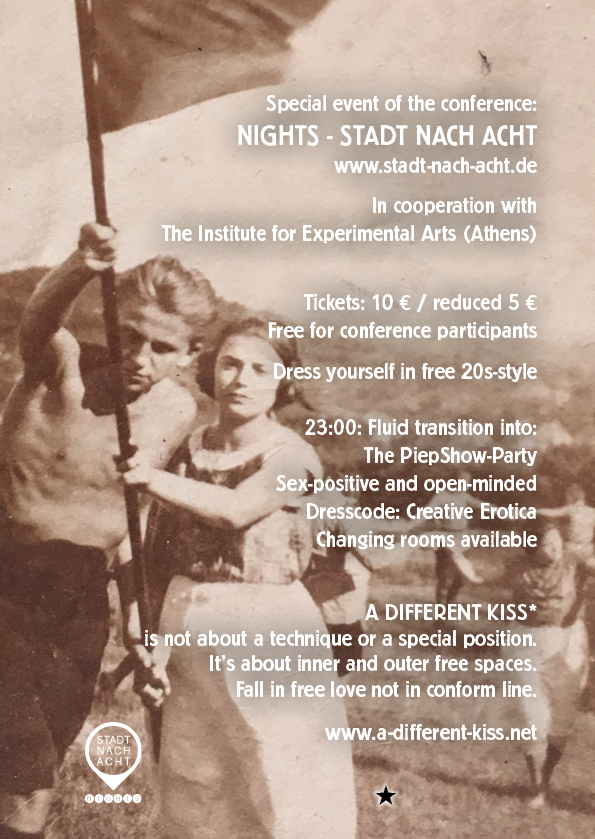 A Different Kiss* beschreibt 'Gestaltung, Lust und Widerstand' im Berlin der Weimarer Republik und remixt die aufbrechenden Zwanziger mit den gegenwärtigen Visionen eines freien, tanzbaren Lebens. Experimentell fließen Performance- und Vortragselemente in eine vielschichtige, englischsprachige Multimedia-Show.  Einen besonderen Blick werfen wir dabei auf die sozio-kulturellen Entwicklungen im Nachtleben – und dem Veranstaltungsort entsprechend nehmen auch erotische Aspekte eine besondere Bedeutung ein.
Der Abend wird von Wolfgang Sterneck gestaltet, der zusammen mit Amy Daublebsky und Sissy Doutsiou (Athen) performt. Annie O. wird die Show mit Electro-Swing-Sounds flankieren.
Die Veranstaltung findet im KitKat-Club statt, einem der international herausragenden und wegweisenden Clubs. Seit den Neunzigern bis in Gegenwart steht der Club für außergewöhnliche sex-positive Electro-Partys.
A Different Kiss* geht um 23:00 fließend in die PiepShow-Party über, für die ein kreativ-erotischer Dresscode vorgegeben ist. Umkleidemöglichkeiten sind im Club vorhanden.
English
A Different Kiss* describes creation, lust and resistance in Berlin / Weimar Republic and remixes the roaring twenties with today's visions of a free danceable life. In an experimental way, performance and lecture elements flow into a vibrant multimedia show. The focus is on Berlin and the socio-cultural developments of the time, with a special perspective on the nightlife and erotic aspects.
The evening is designed by Wolfgang Sterneck, who performs together with Amy Daublebsky and Sissy Doutsiou (Athens). Annie O. will enrich the show with electro swing sounds.
The event will be held at the KitKat-Club, one of the world's most iconic and groundbreaking clubs. From the nineties to the present, the club stands for sex-positive and open minded electro parties that still leads the way.
A Different Kiss* flows smoothly at 23:00 into the KitKat PiepShow-Party, for which a creative erotic dresscode is specified. Changing rooms are available.
Info
Friday 29.11.2019 – 20:00 | KitKat-Club, Köpenicker Straße 76, Berlin | Free entry for conference participants.
a-different-kiss.net